Day train Cairo-Luxor, Egypt
First post in my Egypt 2021 series. After having roamed around Cairo, our next destination was Luxor. We were met with a dounting choice, how do we get there?
We were met with three options:
Fly there. EgyptAir for 49$ USD each, luggage included, 1hr flight time.
Car/Bus. Price uncertain but safety has no price and this option certainly does not make any sense.
Train! Because of the current worldwide situation, it's hard to find good boat cruises on the Nile and we read that the train journey is very scenic. A good way to substitute the cruise. Night sleeper train for tourists costs 80$ USD, an absolute joke compared to the cost of living in the country. No, we want the day train, the 11-hour long one!
Information online about taking that train is quite scarce but we found quite that usually the best way is to book a ticket online. Sadly, I didn't plan this trip (or any actually) so we were out of luck with this option. You would then think that showing up to the ticket booth at the train station would do the job. Sadly not… They won't sell tickets for the "locals" train to tourists. Thankfully there is two other ways to get on that train.
The first one is to just get a seat and wait for the ticket inspector to come and directly purchase a ticket from him (let me know if you see a female inspector!). This is not the option we chose.
The second possibility is to get a ticket from the self-service ticket machines. We couldn't find information on those so we decided to give it a shot, and it worked! When entering from the south entrance of Ramses station, you discover a huge hall where you can access a few platforms. Upon inspection on the main display we found that our train was leaving from a platform that was not accessible from the main hall. We had to exit through a corridor on the left of the main hall (when you face the main display). This corridor leads to other platforms. It is in this corridor that we found a single self-ticketing machine, pictured below.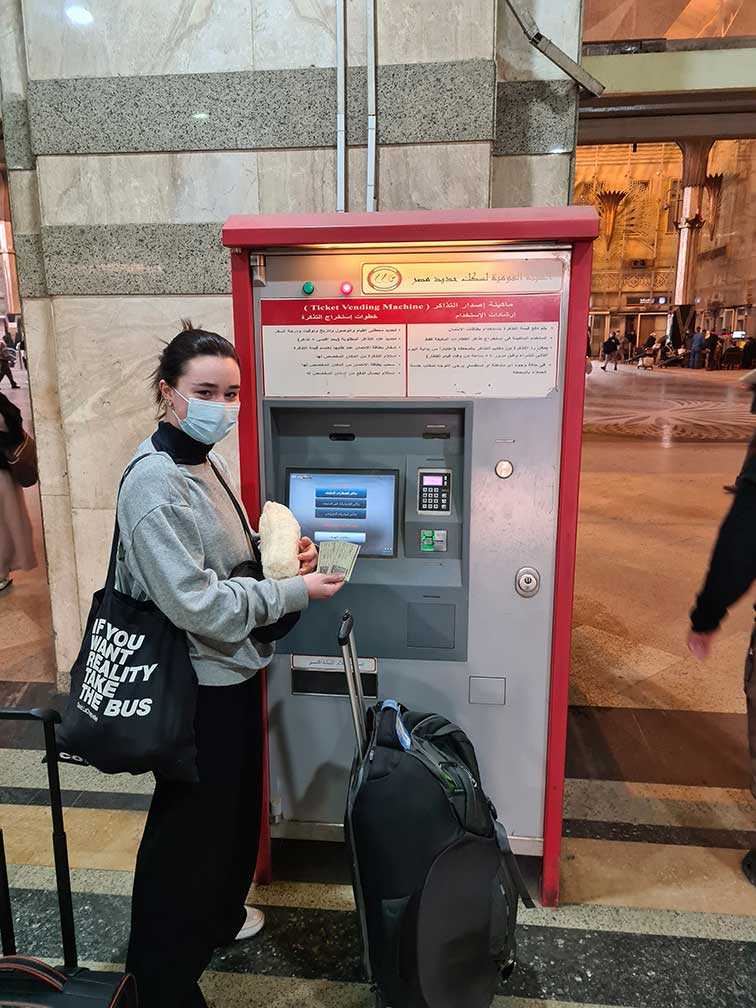 The machine did work but there was a catch. It wouldn't let us buy Cairo-Luxor tickets, only Cairo-Aswan tickets. We think this is the reason a lot of people had trouble using those machines. We ended up buying the Cairo-Aswan tickets (not a big price difference) and the payment went through with a Revolut credit card. In the end it turned out to be a good idea. Indeed when we arrived in Luxor we handed our tickets to some people waiting for the train. They were very happy, they got a free trip to Aswan!
Pro-tips:
we got the lunch menu for 100LE each. It included a half chicken, rice, vegetables, tahini sauce, a coke can and desert. Well worth it, tasty, didn't get sick.
for architecture lovers: try taking pictures of all the water towers you can spot. It was a fun little game we played and it was interesting to see how different they could be.